I can't believe it is already April. But I'm loving it as I am soo ready for summer! This month is hands-down my favorite month of 2018 so far – for so many reasons! So many crazy, exciting, life-changing reasons! So it goes without saying, I've got a lot going on + lots of April goals to accomplish!
I was accepted into every law school I applied to so far…. + with scholarships to all! Last time I made a "goals" post, my top goals were to crush the LSAT + get into law school – so happy to say I've accomplished both!!!! So, this has pretty much been me for the past couple weeks: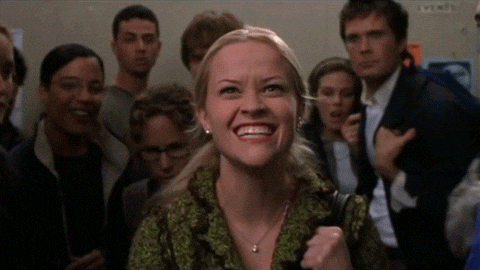 Currently, I have acceptance letters from New York Law School, Case Western Reserve University, Cleveland Marshall (+ I am still waiting on letters from Ohio State + Cincinnati). I cannot express my excitement enough! It has been a longggggg road. From working a full-time job since I was 16 (while also going to school)… to studying for over a year for the LSAT….. I can tell you this has been a journey that has often felt so extremely impossible. So, I am truly thrilled to have worked so hard to put myself in the position I am today. So, moral of the story, never give up!

01. Have an Amazing Time In NYC
April 13th Leo + I are heading to NYC to tour New York Law School (the school that offered me a $40,000 Dean's Scholarship – YASSSSSS!). I can't wait. My goal for this trip is to have the best, most enjoyable time with Leo. As you know, I love the city + whether I choose to go to New York Law or not, I'll be moving there after I graduate law school. That being said, I want to take in every exciting feeling, look at some apartments + just stay up all night going out + celebrating this amazing offer from New York Law. P.S. Stay tuned for the cutest NYC outfit posts, ever.
02. Make a Law School Decision
This is the overwhelming part of this month. I am flying back from NYC on the 15th… The SAME day I need to put my deposit down on Case if that is where I decide I am going. So, I really need to make my decision between Case and NYC during my trip to the city. So stressful. Case is such an amazing school with a wonderful reputation and NYC is exactly where I want to be location-wise. I just need to make sure I'm making the smartest decision + not just moving to NYC right now because that's where I want to live. I can always (+ will) move there after graduation if I choose to go to Case or any other one of my school options. I just hate such tough decisions! But this month, it's a must!
Between meeting with financial aid + admissions, putting seat down deposits, + looking for housing closer to the campuses… I seriously have my hands full this month trying to make the smartest decision in such a short amount of time. Wish me luck!
03. Clean Out More of My Closet
As you know, I shop constantly. I used to think it was a problem…but then I just became a fashion blogger, haha. So, that being said, I have soo many clothes! No seriously, I have turned an entire full-sized bedroom into my "closet room" with clothes taking up one entire wall + shoes taking up the opposite entire wall. So, in other words, A LOT of clothes! As trends + my style changes, I like to make room in my closet for more (it's an endless cycle, I know). So I started selling my clothes/shoes/accessories on Poshmark. I've made $200 and sold 12 items in one week – wow! It's probably because I am selling things that are either designer, brand new or worn once. I have a habit of either buying clothes I never wear or getting over them fast. So, it seems Poshmark was made for me! I'm excited to add more to my Poshmark page!
Here's a snippet of some of the stuff I'm selling currently:
04. Blog More About Most Requested Topics Based on Instagram Polls
Recently, I did a series of polls through my Instagram stories asking readers/followers what they'd like to see more of. Across the board there were very high scores for Fashion/Outfit Inspiration, Beauty, + My Life, with lower scores for Blogging Tips + Law School. I do understand, if you aren't going to law school or if you're not a blogger, these two lower scored categories aren't going to be very interesting to you. However, both are still a big part of my life, so I'll add those into the "life" section, but will focus primarily on the top 3 picked categories (which is pretty much what I've been doing all along).
It was nice to see such interest in Fashion, Beauty + Life…. especially since I'm a fashion, beauty + lifestyle blogger! I'm pleased with all the feedback I received + am looking forward to creating content based on your interests!
I have so many current projects I'm working on for CHELS and ZOE – some things I think you'll all really love, I know I do haha. So stay tuned.
Those are my top goals this month. What's one thing you want to accomplish?